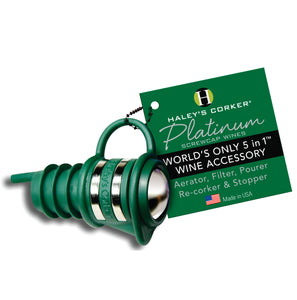 Haley's Corker Platinum - Green (Screw Cap Bottles Only)
Regular price $13.99 Sale
Haley's Corker® Platinum Corkers for Corked Bottles offer a touch of elegance and style at your table or bar. The Green Platinum Corker is designed to fit screwcap bottles.
Aerator – instantly enhances bouquet and flavor
Filter – helps prevent cork residue, sediment and tartrates  from entering your glass
Pourer – drip-free pour control
Re-corker – never struggle with a cork again
Stopper – store wine spill-proof on its side in the refrigerator
No kitchen or bar should be without the Haley's Corker!
Use on Wine, Cordials, Beer, Vinegar and more!
Dishwasher Safe. Use again and again!
USA design and manufacturing
Superior medical grade plastic – proprietary formula
Completely inert – no taste or odor
Soft to the touch – pliable and easy to manipulate
Exceptionally durable
FDA approved – BPA-free
Fits ALL natural, synthetic and glass corked 750 ml and 1.5 liter wine bottles
Will not absorb nor alter aroma or flavor of contents