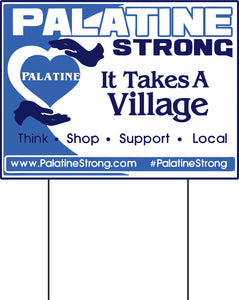 Palatine Strong Yard Sign
Regular price $20.00 Sale
Local businesses are the heart and soul of the Village of Palatine,  and they are facing a crisis. Social distancing and Government-Mandated Shutdowns are disproportionately affecting businesses that need foot traffic to survive. 

Small businesses are vital to our economy and to the quality of life in our Village. Many of these businesses are unique to Palatine, Illinois and make our Village a special place. They support our schools, sports teams and organizations with donations and special offers and make the Village of Palatine a community unlike any other.  As COVID-19 Stay-At-Home Orders continue, many local business owners are facing lease, utilities, payroll liabilities and a host of other payments that are due. Loans and SBA Funding have been difficult to come by and without help many of them may be forced to close their doors. 
Proceeds From The Palatine Strong Yard Sign Will Be Donated To The Keep #PalatineStrong Fund (https://www.gofundme.com/f/keep-palatine-strong-fund) To Assist Local Businesses.
***NOTE: Signs Are Pre-Order - You Will Be Notified Via eMail When They Are Available For Pick-Up